Industrial spies want to gain access to sensitive company data – and in doing so they exploit the helpfulness and good faith of employees. Social engineering is therefore a very serious problem for companies.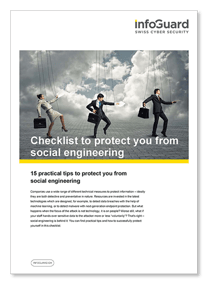 After all, it is not technology that is the weakest link in the security chain – it's the people people. Attacks by cybercriminals are increasingly targeting people. And only in a second step on the technical infrastructure. What is the situation in your company?
We have compiled a checklist with 15 practical tips against social engineering. Read how you can successfully protect yourself and your employees. Simply complete the form on this page - and benefit free of charge!