HPE aruba networking – Wireless LAN Infrastructure
Aruba Mobility-Defined Networks empower a new generation of users who rely on their mobile devices for every aspect of work and personal communication. To create an enterprise mobility experience that GenMobile and IT can rely on and trust, Aruba Mobility-Defined Networks automate infrastructure-wide performance optimization and trigger security actions that used to require manual IT intervention.

Mobility-Defined Networks control the dynamic enterprise mobility environment by correlating real-time data about users, devices, apps and location. Self-healing and self-optimization functions dramatically reduce helpdesk tickets and protect enterprise data. HPE aruba networking employs a software approach that extends enterprise mobility intelligence across wired and wireless networks all the way to users, devices and apps. This makes Aruba Mobility-Defined Networks amazingly easy to deploy without any changes to the existing infrastructure.

Screaming fast 11ac Wave 2
Unique in the industry, the Aruba 300, 310, 320, and 330 series APs are powered by ClientMatch technology — making sure all devices have the fastest connection at all times and Multi-User MIMO capable devices can actually make use of the technology. They come with an integrated Bluetooth Low Energy (BLE) beacon to help remotely manage battery-powered Aruba Beacons.
Aruba 802.11ac Wave 2 wireless access points deliver superb Wi-Fi performance – they can be deployed as controller-managed or controllerless Aruba Instant APs depending on the design, scope and scale of your wireless network.

ClearPass solves today's digital workplace security challenges across any multivendor wired or wireless network by replacing outdated legacy AAA with context-aware policies. It delivers visibility, policy control and workflow automation in one cohesive solution.

Built-in WAN services like compression, policy-based routing and survivability health checks improve application performance, ensure continuity of services, and eliminate business disruptions in the branch.
Built-in security with integrated firewall and secure VPN provide strong protection while ensuring regulatory and corporate compliance.
Built-in threat management with content and URL filtering secure branch network traffic and simplify guestInternet access.


Aruba Recognized as the Leader in Forrester New Wave™ Report
That's right – Aruba is named a leader in wireless! Aruba's wireless solutions are not only high-performing, but also provide visibility into people and assets, enhanced location services, and IoT connectivity. We believe that unique and powerful combination was key to Aruba being named the Leader in the Forrester New Wave™: Wireless Solutions, Q3 2019 report.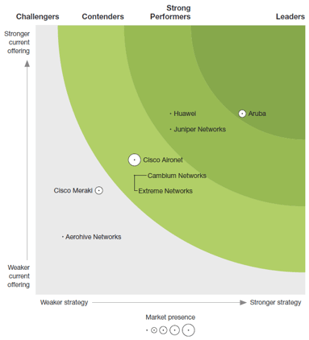 What Forrester Says about Aruba
According to the report, "customers praised Aruba Networks' rich management interfaces, monitoring tools, and location services, especially the ability to connect IoT devices using wireless options outside of just using Wi-Fi with Aruba's access points (APs)."

Aruba received the highest possible score on these criteria and more:
Wireless connectivity options
Wireless hardware options
Security
Get the report here.