Application Firewalling = Next Generation Firewalling
Palo Alto Networks (PAN) next generation firewall is a new approach to professional, the application is based on control rather than the conventional control port.
What has been established in recent years as a technical response to threats, was the "stacking" of four different systems: packet filtering, VPN gateway, Application level gateway / content filtering and IDS / IPS. The result: high complexity, four completely different GUIs, no cross-device event correlation, undesirably high latency, resource-intensive surgical operation. With Palo Alto Networks was the idea of perimeter protection designed from scratch, because it involves.

Identification of applications regardless of port, protocol or encryption methods
Identification of users regardless of the IP address
Granular visibility and control over application access and functions
Real-time protection against hidden threats in applications
Multi-gigabit throughput, in-line integration, minimal latency increase

Based on the security operating system PAN-OS the Palo Alto Networks appliances combine application control App-ID, the integration of user identity (User ID), content filtering (Content ID), networking, VPN and management features.
Security Orchestration, Automation & Response (SOAR)
–
Demisto
Demisto's SOAR (Security Orchestration, Automation and Response) platform combines orchestration, event management and interactive investigation. Demisto's orchestration engine automates security product tasks and integrates analyst actions and workflows. Based on machine learning technology, Demisto Enterprise acquires knowledge from real analyst interactions and prior research to support SOC teams with analyst suggestions, Playbook enhancements, and the best next steps for investigations. This makes the platform smarter with each analyst action.
Demisto's orchestration enables security teams to ingest alerts across sources and execute standardized, automatable playbooks for accelerated incident response. Demisto's playbooks are powered by 100s of integrations and 1000s of security actions, striking the right balance between rapid machine execution and nuanced human oversight. Demisto's automated Playbooks help reduce human-assessed alerts by up to 95 percent, allowing security teams to focus on the most complex threats. Demisto's machine learning capabilities increase responder productivity, accelerate playbook development, and enable leaner, more efficient security operations. DBot learns from incident, indicator, and analyst data and provides personalized insights such as analyst assignment to incidents, commonly run security commands, playbook task inputs, and related incident maps. Together with Palo Alto Networks' Application Framework, we offer a platform that provides the highest level of integration, automation and innovation to prevent successful cyber attacks.
Detect & Respond with Cortex XDR
Palo Alto Networks' Cortex XDR™ cloud-based detection and response app removes security vulnerabilities by stitching together network, endpoint and cloud data to stop complex attacks across your network, endpoint and cloud resources. Cortex XDR leverages Cortex Data Lake for efficient, scalable cloud-based log storage.

Cortex XDR uncovers every step of an attack by applying machine learning to rich network, endpoint and cloud data to automate detection. Cortex XDR protects your endpoints from zero-day malware, fileless or script-based attacks and other hacker activity by analysing incoming files before and after execution.
Effective protection against zero-day malware, ransomware and fileless attacks
Cortex XDR's agent covers all attack vectors with multiple security features and several complementary engines:
AI-supported analysis functions

Integration with WildFire® cloud-based malware protection

Behavioural analytics

Behavioural protection against ransomware

Preventing the theft of credentials

Regular and ad-hoc malware scans
Because the agent is deployed from the cloud, it provides your endpoints with immediate protection against blended threats and immediately begins collecting security-related data to improve detection and defence mechanisms.
InfoGuard receives highest partner status as "Diamond Innovator"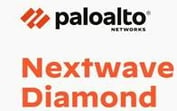 The long-term strategic partnership between InfoGuard and Palo Alto Networks was awarded the highest partner status as "Diamond Innovator" in March 2020. The partner status shows not only the quantitative success of the cooperation, but also in terms of quality. Palo Alto described InfoGuard as "focused, highly professional and determined". InfoGuard is currently the only Diamond partner in Switzerland. We are proud about the award and look forward to a continued good cooperation!