Cyber Security and Cyber Defence have a lot in common with hockey: The strikers try to beat their opponents and find gaps in their defence to get the puck into the opponent's goal. The defence and the goalkeeper, plus the defenders on the other side, try to get behind the opponent's tactics to stop them shooting at the goal. Can you see the similarities? This blog post will tell you why we are not (just) writing about cyber security and why Switzerland's best goalkeeper – Leonardo Genoni – came to visit us in Baar.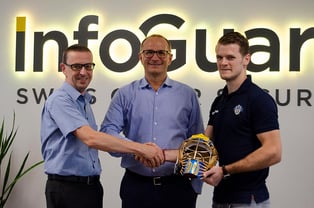 In 2018, InfoGuard took over the player sponsorship of the goalkeeper at EV Zug and was ready to cheer on Tobias Stephan and Sandro Aeschlimann. This season, the EVZ has a new goalie on the starting line – and what a goalkeeper! Leonardo Genoni, Switzerland's best goalie is the new hope of the EVZ and, so to speak, InfoGuard's mascot. We had the pleasure of welcoming the likeable hockey goalie onto our premises and asking him a few questions about his career, his plans for the future and Cyber Defence on the ice.
A success rate of 94% would probably be devastating for Cyber Defence
With 11 shutouts in a season and over 94 per cent shots saved, in statistical terms Genoni was the best goalkeeper of the last play-off series. Most recently, he was also named "Goalkeeper of the Year 2019". So it's no wonder that he's regarded as the safe pair of hands of the Swiss national ice hockey team. He frequently creates gloom in his opponents when he fends off the shots to the goal with his left hand. However, Leonardo is convinced that a defence rate of 94 percent would not be praiseworthy in the Cyber Defence world.
Leonardo, what was the appeal for you of signing a five-year contract with the EV Zug?
Mostly, it was all about the challenge. I spent some very good years in Davos and established myself there in the highest league. Then came the move to the "big club" SC Bern. I was also very happy there. I got to know a new side of Swiss hockey and was able to develop not only in sports but also personally. But last summer I decided to take on a new challenge because I saw the chance to help EV Zug take the next step to reach the top in Swiss ice hockey.
Were you never interested in playing in North America?
Not really. In my early years, there was only a limited opportunity to move to North America. At that time I didn't have enough international experience to be able to draw any attention to myself. Now I am at the point in my career where everything would have to change to make the move to North America. I chose the EV Zug and I deliberately didn't include a withdrawal clause in my contract because I have big plans with EVZ and I want to be part of the team.
In last season's playoff final, you were the SCB keeper playing against your current club, EV Zug. How did you deal with this specific situation?
I was good at hiding that. The decision was made in August of last year (2018) before the last season started, so the excitement over the transfer had already subsided.
How did you get settled in Zug?
I got a very warm welcome and immediately started training on the ice with the team. It will certainly take some time to get used to the new players, but that's always the case at the start of the season.
As a goalkeeper, your role is a decisive one in the success of your team. From your point of view, what are the most important characteristics to successfully fend off attacks from your opponent?
My playing style is instinctive. I am able to read the game well and so "predict" what will happen. I put myself in the place of the attacking player and go through his options or use his body language to understand what he is planning. This is the way I try to fend off the attack before it even gets that far.
How do you manage to stay focused playing at this speed for over 60 minutes and achieve such a high defence rate?
I use the time when there are no attacks on my goal to recover. Still, I have to avoid ever losing my concentration. Over the years, I have developed a sense of when a situation is likely to become dangerous. However, the routine is also the biggest danger in the game.
What is the most important tool for a hockey goalie?
Your eyes. Without eyes that work, I can't recognise situations or see the puck, which as a goalie is crucial to the outcome of the match.
It's crucial to be well prepared and concentrated on the ice. What does a typical training day look like for you?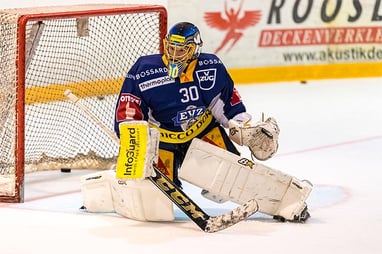 Two to three hours before the ice training I am in the hall warming up. It's different every time. These can be goalie-specific exercises such as eye training or torso strength, or a warm-up with the team.
On the ice, we have 30 minutes of goalie training where we go through game situations. This includes a theoretical part (with no players, just a sequence) and a practical part (with players as shooters). Afterwards, the rest of the team comes on and we all do a training session together, where we discuss the tactical elements of the game.
After training on the ice, we have lunch and in the afternoon we do strength training with the entire team. Around 4 p.m. it is "home time".
How do you prepare mentally – do you have a special ritual to get ready for a game?
I don't specifically prepare for a game. I use a warm-up program, but I could also do another one. I don't want to become addicted to rituals because I want to do my best every day – whatever leg I got out of bed within the morning!
You recently visited us at the Cyber Defence Center in Baar. What parallels do you see between your job as a goalkeeper and what we do as specialists for Cyber Security and Cyber Defence?
We are both responsible for providing protection and we do all we can to ensure that enemy attacks are unsuccessful. But there is a big difference: My rate of 94 percent wouldn't be so great when it comes to defence against cyber-attacks. 😊
InfoGuard is dealing with protection against cyber-attacks every day. What do you do personally to protect your information?
I do my best to take care when I use the Internet, but having visited the InfoGuard Cyber Defence Center, I realise that the risk is much higher than I thought. So I am happy to take advice from InfoGuard.
Let's get back to sport: What's the mood in the team like just before the upcoming hockey season?
I can sense a feeling of optimism. The team is very hungry for success and is determined to take another step forward. We've already completed the first test games and will be ready for the season opener.
Bringing you to EV Zug was certainly done with the intention of getting the trophy back after 1998. How do you manage these expectations?
I place my greatest expectations on myself. I work every day to improve and I always start a new season with the aim of becoming champions.
What would the title mean to you personally?
For me, it would be further proof that I took the right step by moving to EV Zug.
Thank you very much Leonardo Genoni for your fascinating comments and your visit. We wish you and the whole team of the EVZ every success in the upcoming season!