Every year, InfoGuard offers apprenticeships as IT specialists with a Swiss Federal Certificate of Competence (EFZ) in systems engineering and application development. The varied, appealing range of training opportunities means that apprentices can gain in-depth specialist knowledge in this area. But what does the everyday life of an IT apprentice actually look like? How do the two specialisations differ and what makes training at InfoGuard so unique? Read the insights from Kai Wenk and Andrin Jost, who are both in their 4th year of their apprenticeships, as they share their perceptions of their daily apprenticeship schedules.

InfoGuard is currently training nine apprentices as IT specialists in the fields of application development and systems engineering. The apprentices gain an insight into a wide range of specialist areas, fields like IT infrastructures, network operations, IT security and software development, all of which enable them to gain valuable skills and experience. This training forms the ideal conditions for their professional lives in the future. The field of IT is still rather male-dominated, but InfoGuard was able to recruit its first female trainee as an IT systems engineer in 2020.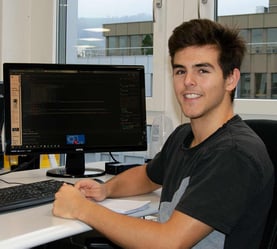 "I like the direct customer contact I have in the Network Operations Center."
Kai Wenk, 4th year of apprenticeship
IT specialist in EFZ systems engineering
You will complete a 4-year apprenticeship as an IT specialist in systems engineering at InfoGuard. What made you decide to do this?
"I came across a career in IT in secondary school. At the time, I was playing different games on a computer with low performance. To be able to continue playing, I had to upgrade it by removing individual parts and installing new components. I really enjoyed working with hardware. I prefer ‹tinkering‹ rather than programming. That's why I decided to do an apprenticeship as a systems engineer. It was clear to me that I would prefer to do an apprenticeship rather than study so that I could gain work experience.
As part of my application for an apprenticeship, I had to take part in a trial afternoon where I had to solve various tasks, including constructing a network. For me, this was very exciting, and it validated my career decision. I also first became aware of the issue of cyber security when I was in secondary school when a group of friends and I hosted games for each other. I am very interested in the subject of security, and at InfoGuard I can gain in-depth knowledge about it."

What is your typical working day like as a fourth-year apprentice?
"In the morning, I enter the office using the vein scanner. For extra security, we no longer have traditional badges. In the 4th year, we work in the InfoGuard Network Operation Center (NOC). There I mainly process customer requests in the form of tickets and then reply to the customers either by e-mail or telephone. The tickets can be very different – from network scans, firewall adjustments and analysing log files to replacing defective devices. Recently I was even able to visit a customer unaccompanied for the first time. I really enjoy the customer interaction side. Once a week, I also work in the Helpdesk team and I process both external tickets and internal employee queries. I feel very much at ease in both teams. In general, there is a family atmosphere at InfoGuard and the informal culture means that working together is straight forward."

What differences do you notice between you and your classmates, who are also working in the IT field?
"Well, my school friends often have little or no customer contact. They also often work in areas with responsibility for setting up and supporting networks, whereas we operate in the security environment, and we have a Cyber Defence Center (CDC) that detects security vulnerabilities in companies and monitors corporate networks."

What have been the highlights to date in the training?
"Apart from the direct contact with the customers, another highlight is the remote sessions. For example, we use Team Viewer to access the customer's systems and carry out debugging."

Is it possible to combine work and school effectively?
"I'm pretty good at balancing work and school. If I make sure I am paying attention in class, then I won't have to do any schoolwork in the evening. Then, to make up for it, I enjoy doing my leisure pursuits like track and field, biking and Thai boxing."

What are your professional aspirations for the future?
"After I have finished my apprenticeship, I would like to stay with InfoGuard as a systems technician and maybe do some further training. But I am still not sure about the direction I'll take. I would also like to get some international experience as a systems engineer, so I can well imagine going abroad for a while."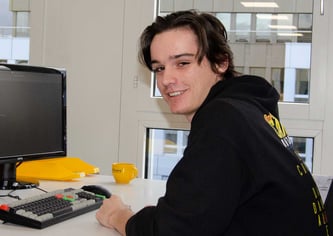 "In the Service Strategy & Design department, I can write code for large projects. I prefer working behind the scenes."
Andrin Jost, 4th year apprentice
IT specialist in EFZ application development

You are in your 4th year of an IT apprenticeship at InfoGuard, specialising in application development. What was your motivation for wanting to do this apprenticeship?
"In secondary school, I edited pictures on my first computer, which I really enjoyed. Computer work fascinates me. As well as this, gaming sparked my interest in a career in IT. My father works in IT, but more on the systems engineering side. That meant I was already able to have a certain amount of previous knowledge in this area. I prefer developing and programming, so I decided to focus on application development. I came across the subject of cyber security online when I was searching for an apprenticeship. That's also how I found InfoGuard."

What are your fourth-year work responsibilities?
"I work in the Service Strategy & Design (SSD) team. I am currently working on a very large-scale project there. We are integrating a product called Swimlane, a Security Orchestra Automation and Respond (SOAR) platform, for our analysts. My job is to implement and test the specified integrations. These are then installed in Swimlane and made available to analysts via a release. I also regularly take part in team planning and status meetings.
Another task is improving the platform of the customer portal. On the platform, customers can log in and get an overview of our services, equipment and the status of their tickets. I like working behind the scenes. I feel very much at ease in the SSD team, and the business culture is young and modern."

Do you still have to study at home after a day at work?
"In the evening I don't do anything for school anymore, I want to relax. I prefer reading books or playing games with colleagues. I find it easy to combine work and school. I am even taking the vocational baccalaureate, which I usually study for on weekends."

How do you see your future career progression?
"I would like to stay with InfoGuard as an application developer after my apprenticeship is completed. Later on, I can also imagine continuing to study and travel abroad to improve my English."
InfoGuard trial apprenticeship 2020
Do you have young people who might be interested in training as IT specialists in the future? In June and July 2020, we organising three trial apprenticeships (in German) to give an insight into the apprenticeship and the day-to-day work. You can find more information and the registration form on our website!