Unexpectedly heading off to spend three weeks in a start-up company in Berlin? Thanks to his outstanding performance, our IT apprentice Luca was able to do just that, something we at InfoGuard are very proud of. In a two part blog articles, Luca is reporting back on what he is experiencing in Berlin and what it is like to work at one of the "hip" Berlin start-ups. "Centre stage" for Luca!

The request for me to go to Berlin came up at very short notice. Exactly ten days before I departed, my instructor at InfoGuard came to me and asked if I would like to go to Berlin for three weeks. I didn't know exactly what it was all about yet, but even at that point I was already very excited. When he explained to me that it was an internship at a start-up company, that I could live in Berlin for the time and that InfoGuard and GIBZ (my professional school) would cover the costs, it was an easy decision to make. I definitely didn't want to miss out on this opportunity and so I accepted. My name is Luca Daniel, and in this blog article I would like to share with you what I am experiencing at the moment.
---
Flying out on Friday the 13th.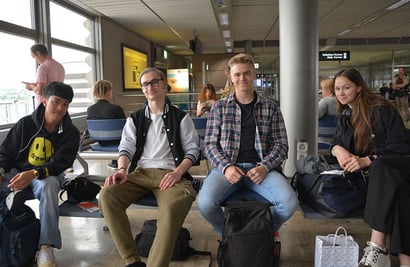 There are four of us in the group: Phearum, André, Nicole and me, although we didn't know each other beforehand. The guys are all computer scientists and Nicole is a mediamatrician. On Friday 13 May, we met at Zurich airport. Was this a bad omen? Luckily, not so far. We took a taxi from Berlin airport to our AirBnB and I was very pleasantly surprised. It is in a quiet location, has a large garden by Berlin standards, modern furnishings and is over three floors. Once we were more or less settled, we went out to get burgers. Afterwards, we headed home and had a nice evening. So, getting to know each other went really well and we were all looking forward to what lay ahead.
First things first: sightseeing
There are a lot of sights to see in Berlin, which is why we went on a tour of the city straight away. At the "Bernauer Strasse" Memorial, we were able to see a piece of the Berlin Wall for the first time and learned a lot of fascinating, but also horrible things in the museum... After an underground ride and a short walk, we arrived at the Holocaust Memorial and were able to marvel at the maze-like structure. The Brandenburg Gate was just around the corner, so we walked past there too and took a few group photos. We wanted to learn a bit more about the wartime period, so we booked a guided tour through the Berlin Underworlds. The Berlin Underworlds are a section of the many bunkers that were built during the Second World War. The bunkers had enough space for a few thousand people, but this was not always occupied in time. As soon as the first bombs fell, the doors were closed – no matter how many people were left outside. Also, because it was an air-raid shelter, air to breathe could become scarce. Once there was too little oxygen in the bunker, you had to go outside and hope that the hail of bombs would spare you.
Diverse cuisines
Anyone who travels to Berlin must have eaten kebabs at least once. We wanted to try them right at the beginning of our stay, so we decided to go to what was advertised as the "best doner kebab in Berlin". Whether it's true or not is a question of preference, but it was definitely very tasty. Vietnamese food was also on the menu twice and I was able to try very unusual dishes that all the same were delicious. In the Vietnamese restaurant, I also ate flying noodles for the first time, which is more literally named than you might expect. On Friday evening we booked a table at a Russian restaurant. I didn't know what Russian food was like, but it was delicious. We ordered a few dishes and shared them between us so we could try as many things as possible.
My job at the Berlin start-up company
Berlin has an enormous start-up culture because there is a lot of money invested here by what are known as "venture capitalists". Even in the first round of financing, the money sometimes amounts to several million euros. Nicole, Phearum and I are working in a start-up called "Fertilly". Fertilly helps couples and singles to achieve their desire to have children by offering customers free counselling and simplifying the process, for example, by using a digital questionnaire. Consultations are held in German, French, Italian and English, so there are a range of different languages spoken in the office. I was surprised that infertility is such a big problem and that so many people call there to get help.

Working hours vary quite a bit, but we start the working day at 9:30 a.m. at the latest. Apparently, it's normal to start work later in Berlin start-ups. That was a bit unusual at first, but it's actually quite cool. Chris, the CEO of Fertilly, had a sandbox created for us so we could try everything out without damaging or changing the main system. Phearum and I had been given the job of creating an online store in WordPress. We built the store itself in Elementor. The WooCommerce plugin is used to process the sales. Elementor makes it easier to structure websites because you work with blocks instead of HTML. Once we had familiarised ourselves with WordPress, we were able to provide the first results fairly rapidly: the product is a fertility test for men and is being displayed with several illustrations and descriptions on the Fertilly sandbox store page. The website is available in several languages, so the store also needs to be translated into Italian, English and French. We had to adapt the page several times because we were not given clear specifications, which meant that the whole thing took a bit of time. Now we are almost finished and we just need to make the final changes.
Going out in Berlin is a must
At the weekend, there is time to discover Berlin's nightlife. It's a city known for its big techno scene, and in the club we danced and met some new people. The next day we wanted to have a quiet night in, but that didn't happen because Nicole got a call from a colleague who lives in Berlin. Once again we went out into the night scene. Unfortunately, we couldn't get into any clubs because at this time of the night, only over-21s are allowed in, so we decided to head home. After a late-night kebab, we came up with the idea of riding electric scooters. The sun was already gradually coming up, it was a really nice atmosphere and we were able to discover many beautiful parts of Berlin in the dawn light.
My summary of the first week
Sometimes the first week took a bit of getting used to, but it was also very rewarding. Being from the countryside, it is unusual for me to travel by tram, underground and streetcar every day, but once you get used to it, it's not a problem anymore. I am enjoying my time here and our group gets on well together. We are eating different food from various countries, and we try something new every day. I am enjoying the job, but it could easily be a bit more demanding. But it's only been one week, so I'm very optimistic. Even now, I'm constantly learning new things because I have to get to know the environment and become familiar with the tools. The co-workers are all very friendly and I also get along well with Chris, the CEO. As much as I'm enjoying my time here, I'm also looking forward to getting back to InfoGuard in two weeks' time and returning to normal everyday life.

If you're curious to see what I'm getting up to in the next two weeks, be sure to check back soon on our InfoGuard Cyber Security Blog – or better still, subscribe to our blog updates now!