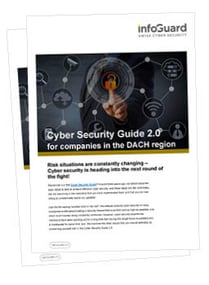 Remember our first Cyber Security Guide? In it we presented 9 elementary steps for your cyber security, which are of course still valid. But as the risk situation is constantly changing, the requirements are changing as well.
In our Cyber Security Guide 2.0 we show you which topics you should currently deal with. The following 11 topics await you:
Cyber Resilience – Protect Yourself In Advance And Strengthen Your Defences
Data Protection – Protecting (Personal) Data Is Crucial
Cyber Security – Your Employees Are Key
Security Architecture – It Can't Be Built On Sand
Identity & Access Management – The Key To Security
Zero Trust – Trust No-one
Cloud Security – To Avoid Running Into A Storm
I(I)oT – Networked With Security And Always On
Supply Chain – Security Is Only Possible By Working Together
Cyber Attack Simulation – Attack Is The Best Defence
Incident Response – Because Incidents Can Occur At Any Time
Interested? Fill out the form on the right and you will be forwarded to the free download of the Cyber Security Guide 2.0!