There are rapidly increasing challenges in cyber and IT security – the growing number of users and devices located outside corporate networks, complex networking and cyber threats are just a few of these. How is it possible to ensure maximum security despite these challenges, without compromising performance? The solution is cloud security in the form of a Secure Access Service Edge (SASE).
The need for new "VPN approaches" has not just risen since the short-term switch to working from home. Even before that, employees were becoming more mobile and using devices regardless of their location. However, what is "new" is that the complex challenges are being taken more seriously as an immediate threat and are (finally) being prioritised - thanks to increasing cyberattacks during the Covid-19 pandemic. The most prominent IT issues were malware and phishing attacks, as well as unauthorised access and applications. But what is the relationship between this and heightened vulnerability?
For one thing, mobile working, i.e. working remotely from any location, is user-friendly. However, conventional VPN solutions are only able to meet IT security requirements to a very limited degree. On the other hand, cyberattacks are becoming more and more professional and are increasing exponentially. To deal with this, it is essential to continuously optimise security based on modern, customised solutions - and that is precisely what is often missing.
SD-WAN – Virtual WAN Architecture
Therefore, software-defined networks, or SD-WANs for short, are being used more and more frequently to network company locations. An SD-WAN is a virtual WAN architecture that allows companies to combine any transport media for data transmission in order to securely connect endpoints to applications. A central control function is used to route data traffic securely and smartly via the WAN.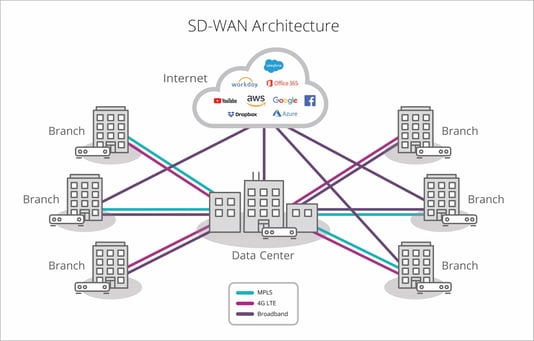 Source: Silver Peak
The connections that are available can be optimally configured for use via the central management, so that low-cost broadband connections are used before expensive MPLS or LTE connections are used. Furthermore, SD-WAN end devices are permanently checking the quality of the connections connected and dynamically redirecting data traffic to a better connection if quality thresholds are exceeded.
SASE – the future of networked security
For most people, it is probably not news that the Cloud will shape our digital future - for many of us, it is already the here and now. Secure Access Service Edge, or SASE for short, is also a cloud architecture model that combines VPN and SD-WAN functions with cloud security functions like firewall, secure web gateway, DNS security, data loss prevention, cloud access security broker and zero trust network access. To summarise: a security architecture that manages the infrastructure via the cloud. This simplifies the traditional network architecture, with all traffic and users being routed via a single, central on-premises access point.
5 good reasons to switch to SASE
The classic VPN approach is reaching its limits due to the increasing number of remote locations and cloud services. SD-WAN and SASE allow data to be exchanged securely without having to rely on a central hub with security functions - with consolidated, unified policy management based on user identities, and with simultaneous flexibility in transport routes. This makes SASE an ideal, modern method for fast, secure application access. Not only can endpoints be secured on the SASE platform, but they can also be connected to each other. What else can be said in favour of SASE? From our point of view, there are five compelling arguments in particular:
Saving resources: less effort and reduced costs - that's what everyone wants. Network operations are eliminated, so this effect is immediate.


Secure network access: secure network access regardless of where you are or what device you are using with end-to-end encryption and reliable protection on public networks.


Security policies: it is possible to define corporate policies centrally, so that SASE is also compatible with "Zero Trust". For example, the platform checks devices for their trustworthiness and checks user identities to block all unauthorised access.


Transparency: the SASE platform provides a comprehensive overview and transparent reporting, enabling cyber threats to be detected and dealt with more efficiently.


Performance: not only is traffic redirection to a central computing system no longer up-to-date due to changing requirements and solutions, it also leads to needless latency. Performance can be significantly increased by outsourcing to the cloud and thereby simplifying the architecture.
How to successfully implement SASE
We clearly see SASE as setting a new trend in network and cloud security, and we are not alone in this, because Gartner can also see the potential and this year, they developed a "Strategic Roadmap for SASE Convergence". That is why it is critical to deploy the right solutions to ensure that highly sensitive data is protected in the networks and workspaces of today. One example is the Aruba Edge Service Platform (ESP), whose unified infrastructure simplifies and enhances IT operations with a single, cloud-native user interface for WLAN, LAN and SD-WAN. This standardises users and other aspects across all environments, from the edge to the cloud. Zero Trust means you can effectively protect your network from device and internet-based threats.
We would be delighted to show you in detail the capabilities of Aruba ESP and assist you with all your network architecture and cyber security needs.