What you can expect from us
Cyber security is our core competence. Our specialists are equally well-versed in the various technologies and their practical implementation. Working with our customers, we develop economically feasible solutions that are sustainable for the long term. Strategic partnerships with the leading IT-Security manufacturers guarantee the effective use of state-of-the-art technologies. Acting as a partner, we support each company in line with individual needs throughout all phases, from planning through implementation to the operation of the systems.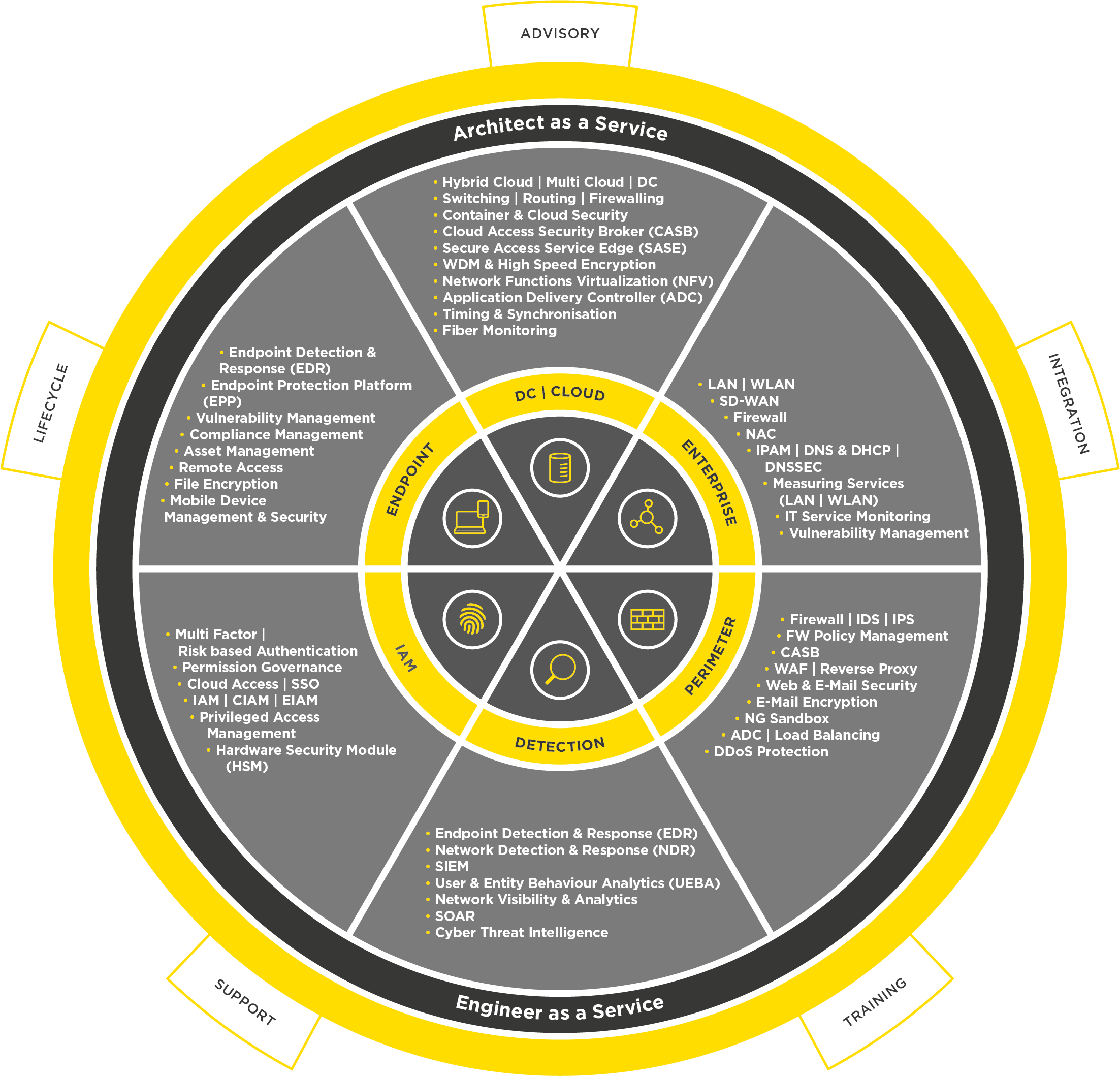 Our ICT Security Solutions
The data center is the heart of every company, because here are the corporate values - the data - stored. Therefore, it is vitally important, that Data Center are implemented completely reliable and secure. Security in the data centre is becoming increasingly important. We offer a solution for comprehensive security in your data center. This considers the creation of zones as a security measure in the enterprise - as is prosposed by ISO 27002 - and the protected transmission of the information into a backup computing centre.
Our Data Center solution includes the following areas:
Hybrid Cloud | Multi Cloud | DC
Data Center Firewalling
Container & Cloud Security
WDM & High Speed Encryption
Software Defined Data Center (SDDN) / Software Defined Network (SDN)
More ›
Our enterprise solution provides a secure and reliable network infrastructure. Our service covers the construction of campus, branch and enterprise networks, as well as the connection to your data center.
Thanks to our expertise surrounding LAN/WAN infrastructures we are in a position to provide you with a comprehensive solution. A new approach to the solution in LAN architecture enables us to increase the performance and availability of the architecture whilst saving costs at the same time.
We advise and support you on the following areas:
Firewall / VPN
Breach Detection
SIEM
NAC
DLP
IPAM / DNS & DHCP Security
More ›
Network perimeters provide a significant challenge to the information security. Maintain control over the entire volume of incoming and outgoing data traffic and protect your company's network from web-based threats. We help you with our experience and expertise in the design, implementation and operation of a secure gateway solution. Our perimeter solution is based on a layered security approach that is tailored to the needs of the customer.
We advise and support you on the following areas:
Firewall and Firewall-Policy Management
Web Application Firewall (WAF) and Reverse Proxy
Advanced Persistant Protection
Next-Generation Sandbox
Cloud Access Security
Web and E-Mail Security
E-Mail Encryption
DDoS Protection
More ›
The access protection on IT systems is becoming increasingly important. The unique identification of the user is only one aspect. A company must also know what changes were made to the IT system. We have many years of experience in constructing and operating infrastructures for granting certificates and the administration of smart cards, soft tokens, and tokens. We would be happy to help you in defining the processes and implementing the authentication solutions in your existing network infrastructure. Strong authentication by means of certificates takes account of these increased demands on user identification. The use of certificates has taken on global dimensions, from logging on to the PC or gaining access to network components, up to remote access and, of course, not forgetting data encryption.
We advise and support you on the following areas:
Permission Governance
Multi-factor and risk-based authentication
Privileged Access Management
Hardware Security Module
Database Access Management
Our experience shows that a pure concentration on the defense of cyber attacks is no longer sufficient. The early identification of the threat potential, the detection of attacks as well as the rapid reaction and restoration of the regular business are now mandatory in order to ensure comprehensive cyber security.
We advise and support you on the following topics:
SIEM & Security Intelligence
Threat, Breach, Intrusion & IOC Detection and Remediation
Next Generation Sandbox
Artificial Intelligence Analysis
More ›
Mobile terminals, which leave the protected network to communicate over outside networks, represent an additional risk. InfoGuard provides you with a solution for targeted user awareness, comprehensive protection of your terminals and mobile storage media. We use our experience and skills to help you with the configuration, implementation and monitoring of your IT security infrastructure.
We advise and support you on the following areas:
Threat Detection & Remediation
Mobile Device Management & Security
Remote Access
Enpoint Protection & Encryption
Malware Protection
More ›
Strategic partnerships
Our comprehensive and practicable range of security solutions comes from our own production and the cooperation with selected suppliers.