Once again it was a full house this year for the National Future Day, which took place on 14 November 2019. Our employees children were given an insight into their parents everyday working lives and were able to experience the exciting world of information technology and cyber security live. In this blog post, you will find out about what they experienced and if we will soon be employing a few new cyber security juniors!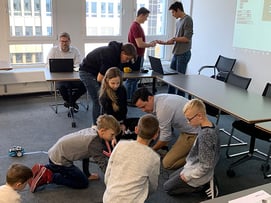 Like any normal school day, the Future Day kicked off early. Not just because the parents had a lot to get done, of course, but also because hackers never sleep and they are active 24/7, as the children and teenagers later learned. Stella and Elias first impressions were as follows: "The first thing we did was take a tour. Then we had a meeting with the CEO. We were able to ask him questions about the company." Diego even remembered a very important detail about our CEO, Thomas Meier, that he is a big EVZ fan. That's right! And because Diego is also a fan, he found it particularly "cool" that InfoGuard sponsors Leonardo Genoni.
Programing robots? It's child's play!
Definitely one of the day's highlights was the robot that the children programmed together. "We programmed it so that it always followed a black line of tape, like on a racetrack. That was cool." No wonder Stella and Elisa used all the breaks to continue perfecting the robot. And they were immediately able to impressively demonstrate why robots should be used on a permanent basis in our office from now on. The robot was even able to dispense coffee! "The people were very happy and mostly went with it", said Elias and Nicola enthusiastically. We will definitely give you a thumbs up for this!
Red and Blue Teams – united against mischief!
After that, the young people visited our Blue and Red Team. What do they do? The Red Team is like a hacker team, but they just pretend to be hackers to see if a real hacker can crack the computer. The Blue Team defends against the attacks and tries to protect the company. Every day, about 500,000 hackers attack Switzerland.
Our teams obviously made quite an impression on everyone else as well. "What I liked most was in the morning when we saw the Blue and Red Teams. When I am older I want to become a computer scientist too. I would love to join the Red Team because I want to hack, attack and learn LockPicking" said Gabriel. Fortunately, we don't have to worry about the Red Team's future.
InfoGuard – almost like a 6-star hotel
Up to now, we had been unaware of the parallels between cyber security and tourism, but who doesn't like to win stars*? "Lunch was a dream. The burgers were delicious and you could fill them yourself with any variation you like. There was no shortage of snacks or drinks either. There were biscuits and drinks within easy reach throughout the morning and afternoon. We were treated as if we were in a 5-star, no a 6-star hotel. The furnishings were very attractive and everything looked very modern." Thank you Gabriel, we are happy to accept the compliment! And after the gorgeous lunch - which the other children all agreed - the programme continued...
What honey pot and gummi bears have to do with cyber security?
In the afternoon, the children learned that cyber security includes other things, as well as attacking and defending. Markus Limacher, our Head of Security Consulting, showed them that consulting is anything but boring. So even a few hours later, Elias could still remember exactly what the make-up of a secure password was, and was still busy working on the ultimate secure password and Gabriel is still able to explain what is meant by "Man in the Middle" and "Honey Pot" to all his classmates in the future.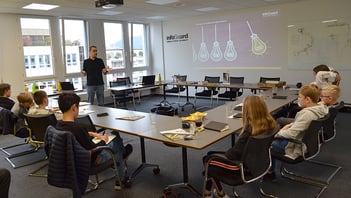 And who actually looks at the website? Who makes all the brochures, events, gummi bears and sunglasses for InfoGuard? That's right, the marketing department. The young people learned how important this is even for a cyber security company from "Züfi" - or rather Reinhold Zurfluh, our Head of Marketing. Apparently, he was able to inspire them without having any hacker skills, at least, according to Gabriel: "Everything was explained exactly and you could really follow the explanations. Even a Neanderthal could have understood everything". Our marketing expert would also have been a talented teacher.
InfoGuard – the evening off despite 24/7
Later in the afternoon, the children realised that, despite a 24/7 service, our employees could not (and of course should not) work all the time. Fortunately, it was soon "closing time", because the day had been quite a long one. What was the verdict? "Today was the best Future Day I've ever had. It was very exciting and really great, it was a lot of fun and I learned lots of new things. The whole InfoGuard team was incredibly nice and helpful. The train journey was definitely 100% worth it. We also got some cool souvenirs. It was just perfect," said Gabriel. And it seems that we have gained another fan in Nicola because he wants to work for us one day. Dear Nicola, we would be very pleased to have you!
Not only the children and teenagers enjoyed this eventful, fun and varied day, but also the InfoGuard team. We would like to thank everyone for their visit and we are already looking forward to next year!
Cyber security
–
a passion to transmit
For us, cyber security is much more than "just" a job. It is a passion that we want to impart to tomorrows talents. This is why at InfoGuard, we attach great importance to training junior staff and we are currently training eleven IT apprentices, and as a company, we also contribute to combating the shortage of skilled workers. We see it as our duty to train future specialists.
Have you also got a new generation of employees who will soon be faced with their career choices? Once again in spring, we will be organising several trial days to give an impression of everyday working life and training. From January onwards you can also find further information on our website and on our social media channels!
* PS: Of course we would also be very happy to get a fantastic star rating from you on Google or Facebook!