Beginning of September, following a period of construction lasting just under three months, we opened the new, ultra-modern Cyber Defence Center (CDC), which is over twice the size of the previous one, and a spacious extension to the office space at our location in Baar. One of the most modern Cyber Defence Centres in Switzerland has been created covering an area of 550m2. You can read all the details of the new CDC in this blog article.
There were around 150 guests present at the grand opening event, and they were given an insight into our new centrepiece – the new Cyber Defence Centre. The big increase in demand for Cyber Defence & Managed Security Services and the staff expansion associated with it have prompted us to build a brand-new Cyber Defence Center, which, at over 550m2, is over twice the size of the previous one. We also have the Operations Centre which covers the entire spectrum, from support and operating technical infrastructures to outsourced cloud services and managed security services.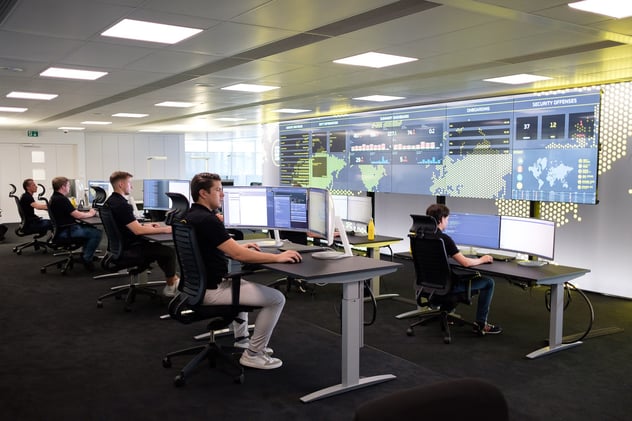 The office space available has been almost doubled by moving into the same floor of the neighbouring building. Our modern offices now have a surface area of over 2,800m2. Access is via the new «Skylounge»-terrace. Take a look at the impressive drone images taken by Sergio Cerminara.
Alongside the new Cyber Defence Center, a generously-proportioned client and meeting area with an integrated «CyBar» has also been created. We are particularly proud of this, and we are already looking forward to hosting many fantastic events with our clients, partners and members of staff.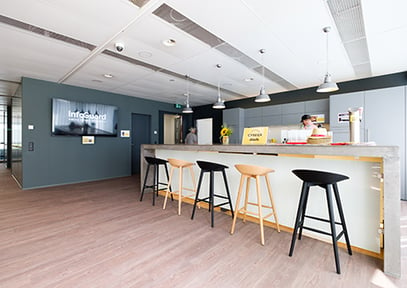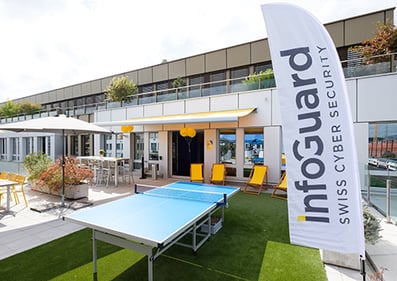 The Cyber Defence Center's success story
The success story started back in 2015, when we opened the first Cyber Defence Center 1.0, offering comprehensive services in managed detection and incident response. Continuing, successful growth led to the centre expanding in 2017 to 250m2, with what was then a still manageable number of 30 specialists.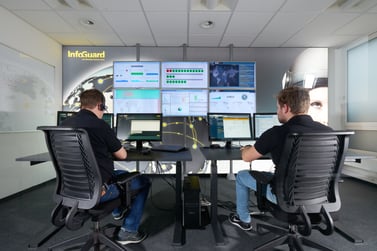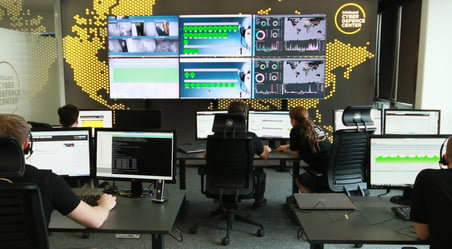 Cyber Defence Center 1.0 (2015) Cyber Defence Center 2.0 (2017)
The ongoing sharp rise in demand for these services and the resulting increase in staffing levels prompted us to expand the space once again. Today, there are over 70 specialists working in the brand-new, state-of-the-art Cyber Defence Center, working in an area of over 550m2 and looking after the security of our clients in Switzerland, Germany and Austria, 24/7.
The Cyber Defence Center 3.0
The Cyber Defence Center 3.0 is ISO 27001 certified and ISAE 3000 Type 2 accredited. Here, first-class expertise and highly developed technologies are combined with the many years of experience provided by our security experts and threat analysts. The CDC has a multi-level physical security concept and the security systems are monitored around the clock. The vital technical components are multi-layered and ensure the highest levels of availability. At the same time, we meet the strict data protection requirements (the DSG and EU GDPR) as well as the guidelines for the Swiss financial sector. We also ensure that data is stored exclusively at the client's premises or within our redundant data centres in Switzerland.
We are also a member of FIRST (Global Forum of Incident Response and Security Teams), which confirms the high-quality standard of our cyber defence and response services.
Another feature is the huge display wall, which shows current statistics, team divisions, responsibilities and a lot more, and would look good in any action or science fiction film.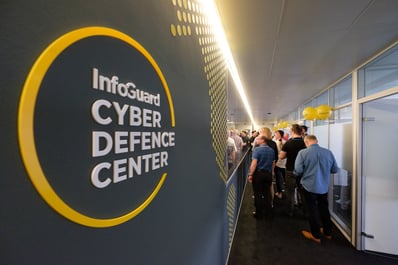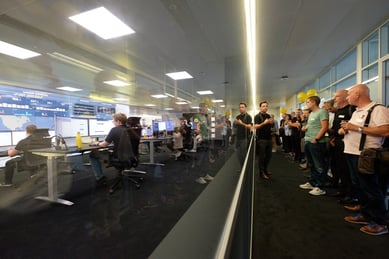 Cyber Defence and Response Services
In our Cyber Defence Center, we offer comprehensive cyber defence and response services. Nowadays, companies depend on cyber security experts who can detect anomalies in the network using state-of-the-art analysis tools to investigate suspicious cases and take immediate action when danger arises. Our Cyber Defence Services provide round-the-clock assistance which is tailor-made to fit your needs.
When a cyber-attack occurs, the incident needs to be analysed as rapidly as possible. To limit the consequences as much as possible, you need to rely on experienced specialists. Our cyber security analysts search specifically for the attackers' tracks, clues and digital fingerprints. Our Security Incident Response is based on a standardised process in accordance with SANS, guaranteeing that normal operations are swiftly reinstated.
You must be aware that you can be hit by a cyber-attack at any time. Our Incident Response Retainer (IRR) is the optimal solution for being rapid, efficient and above all prepared. You can find more information about our IR retainer for companies here: