ADVA Optical Networking – CWDM/DWDM Connectivity and Encryption
With the optical transport solutions from ADVA Optical Networking provides InfoGuard a scalable and flexible product to suit all needs. In todays dynamic and yet accelerating business environment, the availability, security and integrity of data and important information becomes more and more decisive.
FSP 3000 – Modular DWDM/CWDM-System
The FSP 3000 is a scalable optical transport solution designed to respond to today's exploding bandwidth demands. Whether you're a mid or large enterprise customer or a service provider, the modular design of the FSP 3000 ensures your networks are built on a flexible WDM foundation. Supporting up to 120 wavelengths per fiber and all common state-of-the art datacenter protocols (Ethernet, Fibre Channel, Ficon, Escon, Infiniband) with a speed up to 100 Gbps, the FSP 3000 is the right solution for your backbone and inter datacenter connectivity. In addition, the certification with all major storage vendors guarantees full interoperability within your network.
ADVA's network encryption solution integrated into the FSP 3000 is optimized for data center interconnection applications requiring maximum data security on the network connecting your locations. It provides a transparent wire-speed service using the internationally recognized Advanced Encryption Standards (AES) algorithm for securing private information. Dynamic key exchange and a strictly separated encryption domain manager make our solution compliant to the most stringent regulatory requirements. Our flexible 10G and 100G muxponder module implementation lets you carry a wide variety of protocols including Ethernet, Fibre Channel, and InfiniBand. The hardware-based network encryption implementation delivers maximum efficiency at ultra-low latency to address mission-critical applications.
ConnectGuard™ the new era of Layer 1 Ethernet Encryption
The innovative network encryption technology from ADVA Optical Networking, enables customers to transport their data securely with ultra-low latency across high performance point-to-point network environments. Read more about the new Layer 1 Ethernet Encryptor - ConnectGuard!
ALM Series
Fibre optic networks carry large volumes of data and are increasingly business-critical; a failure in a fibre optic infrastructure has to be dealt with immediately! Fibre optic monitoring and error analysis during normal operations solves this problem. ADVA's unique ALM (Advanced Link Monitoring) solution provides an unprecedented level of efficiency.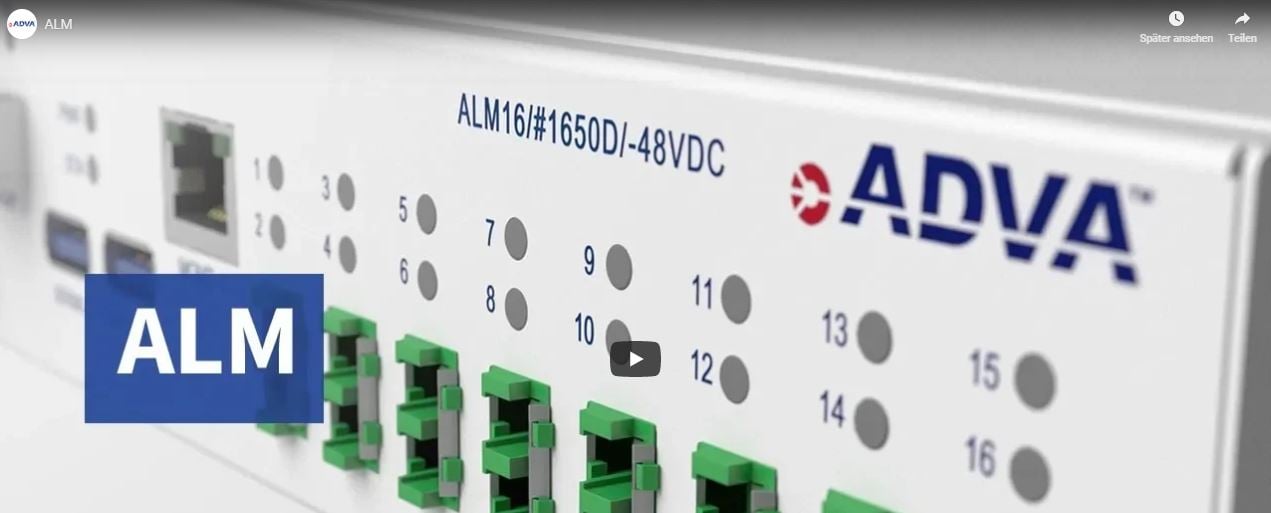 Proactive monitoring of fibre optic connections by ADVA solves this issue. ALM is an advanced monitoring solution for high-precision real-time monitoring of fibre optic connections. ALM streamlines operations, shortens repair cycles, and enables network demarcation independently of service.

The benefits of ALM:
Two ALM product variants for monitoring 16 (ALM16) or 64 fibres (ALM64)
Up to 160 km range for access, underground and core applications
Simple plug & play integration into existing infrastructure with no interruption to data traffic
Real-time status information of fibre optic connection
Localisation of loss points with alarm thresholds
Integrated Geographic Information System (GIS)
Ultra-fast fibre integrity check of 3 to 6 seconds per port
Measurement signal at 1650nm, out-band side wavelengths of the WDM spectrum
Smallest and most cost-effective fibre monitoring solution: up to 64 ports per 1U chassis