KEMP – Server Load Balancing – SSL Acceleration – Internet Traffic Management
KEMP products optimize web infrastructure as defined by high-availability, high-performance, flexible scalability, ease of management and secure operations - while streamlining IT costs. LoadMaster simplifies the management of networked resources, and optimizes and accelerates user access to diverse servers, content and transaction-based systems.
For SMB organizations, KEMP streamlines user access to websites to improve customer satisfaction. Managed service providers use KEMP's purpose-built products to enable fast time-to-market and cost-effective operations for new and existing managed services.

If your website or intranet is critical to you organization, an accessible, secure and continuously operating site is the key to your success. With a powerful ADC or Load Balancer from KEMP Technologies, you'll be providing your business with a high-value, reliable infrastructure appliance that will significantly improve your web server performance, reduce costs and increase your customer's web experience.

LoadMaster X1 – Load Balancer Appliance for Smaller Workloads, ISVs and Service Providers
The LoadMaster X1 is a load balancer appliance built for optimizing smaller application workloads, and embedding into ISV, OEM and service provider solutions where dedicated lightweight hardware is required.
Kemp LoadMaster hardware load balancers offer the scalability, feature depth and security required to enable resilient delivery of a wide range of application workloads for organizations of all sizes and capabilities. LoadMaster simplifies application delivery with easy management via web UI, API and Kemp 360 Central with a compelling TCO and outstanding customer support.
More information about the Virtual LoadMaster from KEMP can be found here.
Virtual LoadMaster MAX – Cloud & Virtual Application Delivery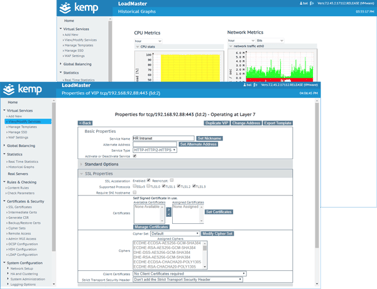 Kemp's Virtual LoadMaster is a fully featured load balancer and application delivery controller (ADC) that supports all the major application workloads with easy-to-use templates. It offers key features such as SSL offload along with advanced authentication and traffic delivery options.

Deliver Anywhere
Virtual LoadMaster (VLM) instances can be deployed on all major hypervisors and on leading public cloud services with a consistent set of features regardless of where deployed. Consistency across a wide range of platforms greatly simplifies cloud migration and hybrid cloud deployments with seamless migration and reduced management complexity.

Flexible Licensing
Virtual LoadMaster can be licensed using permanent or subscription licenses on each instance, or with metered licensing across multiple Virtual LoadMaster instances. Metered licensing provides the flexibility to deploy and retire load balancing resources on-demand, greatly simplifying DevOps environments and application scaling.

Easily Managed
Regardless of where Virtual LoadMasters are deployed, a consistent administration interface is presented via Web UI, API and Kemp 360 Central. Kemp 360 Central provides cross-platform configuration and monitoring of load balancing resources to simplify the administration of multi-load balancer environments. The LoadMaster API (RESTful and PowerShell) enables automation of load balancer deployment, configuration and administration and integration of load balancer operations with DevOps and hypervisor management frameworks.
More information about the Virtual LoadMaster from KEMP can be found here.