Extreme – Edge Switching
Extreme Networks offers an assorted portfolio of products that enable enterprises to build networks that are always-on, providing up to seven times better resiliency; efficient, up to 40% more energy efficient; and scalable, providing up to 20 times better performance than the market leaders.
Extreme has augmented or enhanced the Extreme Networks product family over the last three years to deliver the most advanced technology available. In the past year alone, the portfolio has made several noteworthy accomplishments, including the introduction of pervasive 10 Gigabit Ethernet (GE) capacity, the acquisition of Identity Engines technology and becoming the sole vendor to break the stackable terabit barrier.
Extreme's Ethernet Switching products provide complete coverage, ranging from entry-level branch office through premium high-performance wiring closet, to campus core and data center applications. Extreme is continuously developing and improving the product line. It has most recently delivered the Ethernet Routing Switch 5600 models that feature the industry's first and only terabit-capable Stackable Chassis solution, and the Ethernet Routing Switch 8800, which is the evolutionary high-performance solution to support next-generation highly virtualized campus environments.
With Extreme Networks, your network achieves true end-to-end reliability and always-on application access.
Extreme Management Center (XMC)
Managing and monitoring corporate networks has become a complex and difficult task. The overview quickly gets lost in the process. With the Extreme Management Center (XMC), you can manage your entire network - whether it's Extreme solutions or third-party products from Palo Alto, Fortinet, etc. - from a central management console! The Management Center gives you everything you need to have visibility, transparency and control over your network - centrally and with a unified view from the edge to the data center.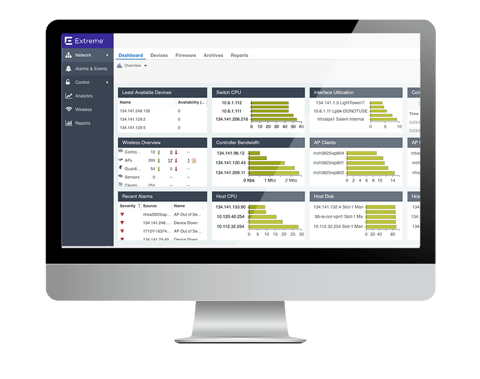 Keep your network and firewalls under control with XMC, reduce your administration effort and gain not only time but also transparency!